The Ghana School Feeding Program (GSFP) which started in 2005 is an initiative of the Comprehensive Africa Agricultural Development Program under the NPP administration but has it lived up to its name?
As the saying goes, the truth is in the pudding – and this is true indeed.
A new viral photo presumed to be taken from one of the various Ghana schools offering free food on the School Feeding Programme has sparked a stir online.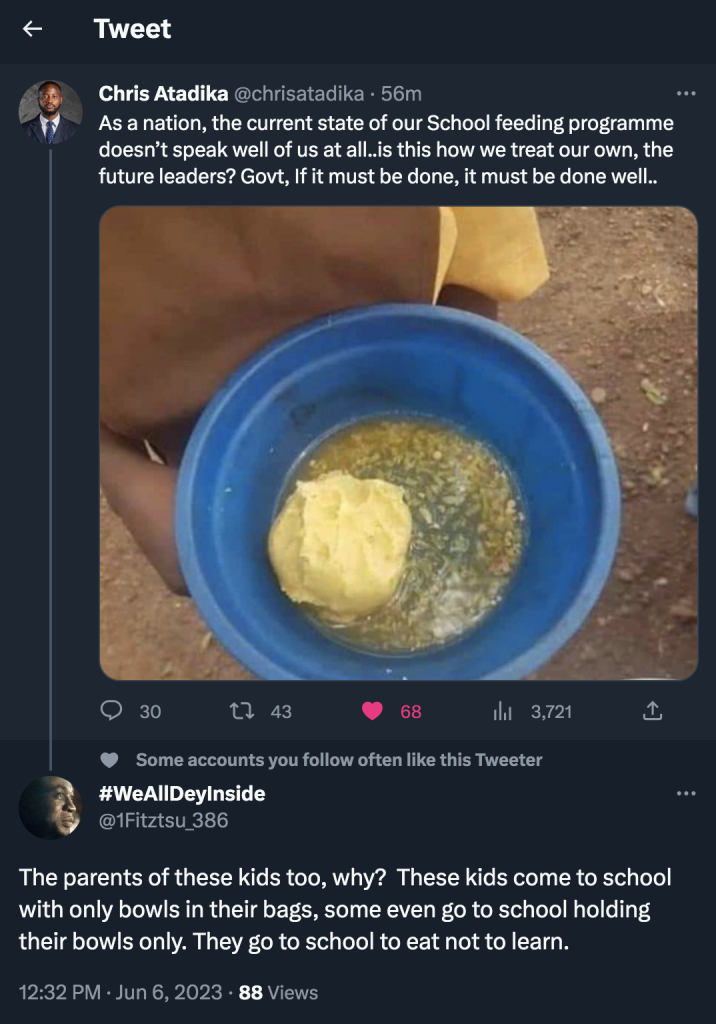 A netizens, @chrisatadika shared the viral photo as amid his shock:
'As a nation, the current state of our School feeding programme doesn't speak well of us at all..is this how we treat our own, the future leaders? Govt, If it must be done, it must be done well.."
This post has sparked a stir as netizens take to it to react:
@KwekEbu:
Meanwhile, huge sum is being requested for the cathedral.
@kaakyireasante:
Who in his right sense will feed a child with GHC 1.20 and claim that he has done well?
@desiadenyo97:
1.20 Cedis per child.
Even Dogs are not fed on such a meager amount.
The sad thing is their parents would be chanting "Break the eight (8)".
@Mc_Mens1:
They will tell you this the best!!! My cousin came frm shs and he said they eat "Tom brown" morning afternoon evening! But who will listen? We move!
@1Fitztsu_386:
The parents of these kids too, why? These kids come to school with only bowls in their bags, some even go to school holding their bowls only. They go to school to eat not to learn.
Chek out the tweet below:
Source: OccupyGh.com 
Tap To Join Our WhatsApp Community